Looking for the Best Contactless Hotels in Lake Tahoe?. Look no further, let's break it down…
Lake Tahoe is a top destination for people seeking outdoor activities and beautiful scenery, and lucky for travelers, staying here just got easier. 
When was the last time you traveled and stayed at a hotel? If it was prior to 2020, you may be unfamiliar with a new wave of technology that allows hotel guests to social distance during hotel check-ins. 
Through innovative contactless hospitality, the risk of transmitting Covid-19 is reduced. There are no lines to wait in for check-in. (Score!) As a guest, you can rest assured knowing that all your needs will be met, while still having the ability to interact with guest services at a level you are comfortable with. 
In current times, it's not just companies like Amazon or Instacart that make people's lives easier. Now, the hospitality industry is entering the arena and travel has never been so effortless. 
Here's how it works: 
First, you arrive at your lodging destination and check in using your mobile phone. No lines, no waiting.
Then, you will have keyless access to your room via a personal room code and instructions that will be provided to you upon your check-in. You will be able to begin your stay, rest, explore, whatever your heart desires. It is so easy!
If anything should arise, and you need to speak with a member of the staff, a mobile concierge team is available to meet your needs.
How cool is that? You simply pull up, self check-in, let yourself into your room, and your adventure begins! At these hotels, the health and safety of guests is a number one priority while still having all the important aspects of a hotel stay right at your fingertips.
Check out the best Lake Tahoe pandemic proof hotels: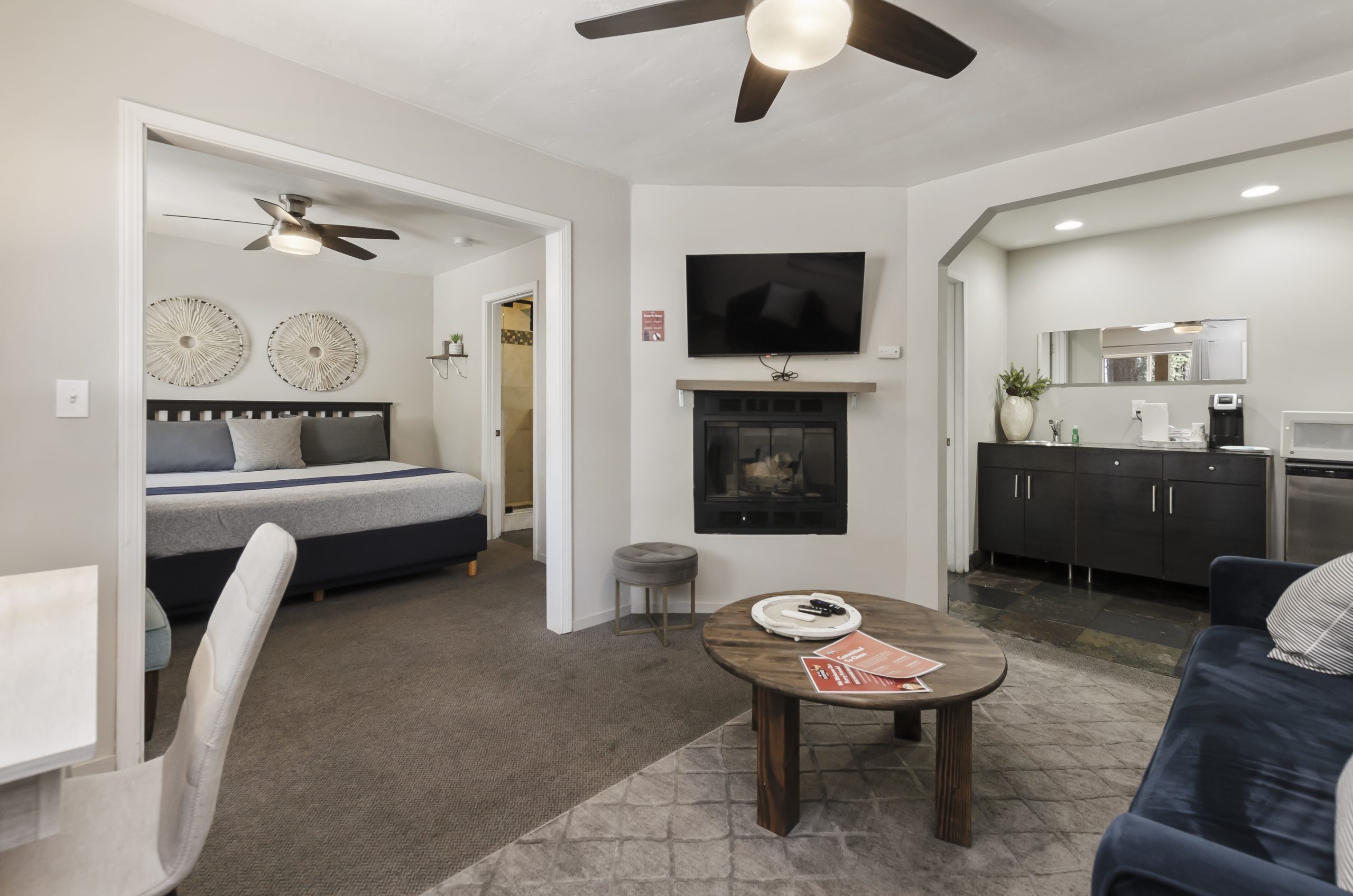 Playpark Lodge
Playpark Lodge - Located in South Lake Tahoe, this is a perfect family friendly choice for contactless lodging. Comfort meets convenience in this modernized boutique hotel experience that features firepits, a dazzling market light-lit community area, and is walking distance from a lakeside beach. Cornhole, giant Jenga, and smores are some of the fun activities provided in the courtyard area. One of the top rated pizza restaurants, Lake Tahoe Pizza Company, is directly next door, and is sure to be a hit for the entire family.
The amazing thing is that all of these hotels have a Unique Guest App link, which will be sent directly to you. You simply click the cloud-based guest app and it provides all of the information for your stay, your room access code, and a list of surrounding restaurants, activities, and maps. This link also enables you to interact seamlessly with guest services. It's an all in-in-one curated app just for you so that you can get the most of your experience! Just one simple click of a button and you have all this available, no download required. 
Each of these hotels are committed to providing you with comfortable and clean accommodations that allow you to get the most from your trip with the least effort. Now is the perfect time to book a room at one of these boutique contactless hotel options and enjoy the crisp mountain air and unrivaled beauty of Lake Tahoe! 
Once your lodging is booked, check out all these fun Spring-time Tahoe adventures that await you!